. . .Rebel advances in the Gbu syste. . .
Alliance Free News interrupts this Imperial propaganda to bring you important news.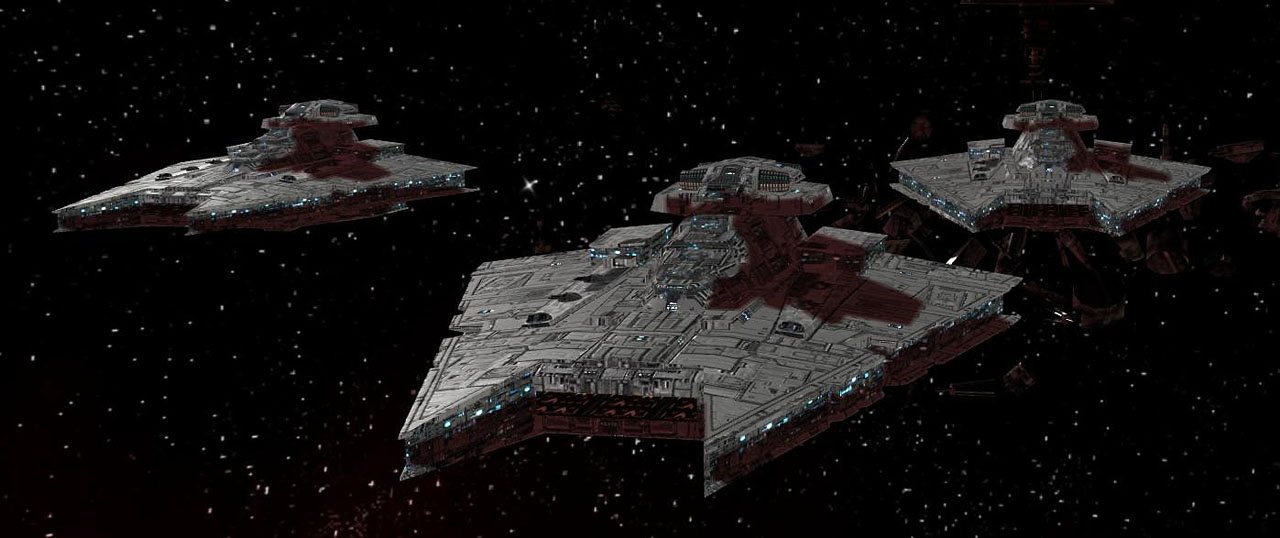 Gladiator Star Destroyers moving in for the attack
We have reports of a conflict between Commander Lyraeus in the Caluula system. During a blockade run to bring much needed supplies from interested parties to the Mon Calamari system, Commander Lyraeus encountered several Imperial Gladiator Star Destroyers that were beleaguering the trading station in the area.
We have reports that Commander Lyraeus was able to fend off the Imperials attacks through the use of his flagship Blue Majesty and her sister ship Scars of Freedom. These two modified Assault Frigate mkii B's were backed up by two squadrons of A-Wings, and four squadrons of Y-Wings.
There was fierce battles around the station that was surrounded by asteroids and debris fields.
Riuka Nadori led Lightning Squadron, made up of A-Wings, to assist the host of Y-Wings in damaging the Imperial flagship as well as injuring the Gladiator known as the Demolisher.
Scars of Freedom suffered some damage causing it to leave the battle when the Imperial forces retreated.
Due to the heroic efforts of the this task force, the Imperial forces in the area were forced to retreat with severe hull damage and blown shield projectors, This is a tremendous victory for the Alliance as it takes these dangerous Imperial forces off the front lines. This loss of battle ready ships for the Imperial forces will erode their control of the sector.
We will bring more information on this as we get more news from the front.
This is Alliance Free News the voice of the Rebellion signing off.
. . . he Veubgri, are deemed ideal for hard labor. . .
System: Caluula
WINNER: Rebels
POINTS: 300
OBJECTIVE: Contested outpost
300 pts EMPIRE:
Henry
Gladiator
I
-class Star Destroyer
Grand Moff Tarkin
Expanded Launchers
Sensor Team
Engine Techs
Gladiator
I
-class Star Destroyer
Weapon
Liaison
Expanded Launchers
Sensor Team
Engine Techs
Demolisher
Gladiator
I
-class Star Destroyer
Weapon
Liaison
Expanded Launchers
Sensor Team
Engine Techs

296 pts REBELS: Damion
Assault Frigate mkii B (Blue Majesty)
Garm Bel Iblis
Intel Officer
Gunnery Team
Advanced Projectors
Enhanced Armaments
Assault Frigate mkii B (Scars of Freedom)
Intel Officer
Gunnery Team
Advanced Projectors
Enhanced Armaments
Tycho Celchu (Riuka Nadori) - Lightning Squadron
A-Wing - Tornado Squadron
Y-Wing - Amber Squadron
Y-Wing - Cobalt Squadron
Y-Wing - Deep Squadron
Y-Wing - Storm Squadron